Valerie DePaul

Valerie graduated from the University of Miami with a Bachelor's Degree in Exercise Physiology and a minor in Sports Medicine. She was a Track & Field Athlete specializing in the 100 meter and 300-meter hurdles. While studying at the University of Miami, Valerie developed a passion for helping with the reduction and prevention of diabetes and obesity while participating in organizations that focus on chronic illness maintenance. She also worked in the Cardiorespiratory Lab as well as the Exercise Physiology Lab performing maximal and submaximal VO2Max testing. Since graduating, she has gained experience working with a wide variety of individuals all the way from youth & college athletes to seniors. She is certified in Yoga, Spin, and Russian Kettlebells (RKC).
Least Favorite Exercise : Squats
Favorite Activity: Cuddling with dogs
Favorite Cheat Meal: Anything with mass quantities of potatoes or cookies
Guilty Pleasure: Boy bands
Random Fun Fact: My dog is probably bigger than you"
Reece Maurer, CSCS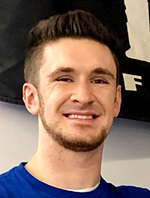 Reece is a graduate from Temple University with a B.S. in Exercise & Sport Science. He is a Certified Strength & Conditioning Specialist under the National Strength & Conditioning Association, as well as a USA Weightlifting Sport Performance Coach. A personal trainer for three years, he also has hundreds of hours of experience as an intern coach at both University of Pennsylvania Strength & Conditioning and TopSpeed Performance School in King of Prussia. He enjoys training clients of all levels and fitness goals, and specializes in sport performance training for athletes.
Favorite Exercise: Squats
Favorite Season: Summer
Favorite Sports team: Philadelphia Eagles
Favorite TV Show: Game of Thrones
Favorite Ice Cream Flavor: Mint Chocolate Chip
If I could have any superpower: Teleportation