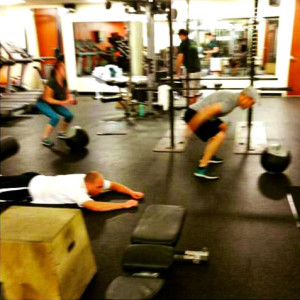 SCHEDULE A NO RISK CONSULTATION NOW
Call/Text 215-PLATOON (215-752-8666) or email info@PlatoonFitness.com
One of our concierge team members will answer any questions you have and help you get started quickly and easily.
GET A QUICK RESPONSE TO YOUR FITNESS QUESTIONS
Our mission is to consistently create safe, challenging and fun experiences where you get (and keep) our your in the best mental and physical condition. We start where you are. For almost 20 years our passion for customer service and continually educated professional team of Instructors have won industry and media awards, but we know our lives depend what we do for you. Try a session and if you don't love it we will refund you in full.
For 20 years Platoon's mission has been to consistently exceed our member expectations through safe, challenging and fun experiences. 70% of what we do is personal training and 25% is Corporate wellness, we design, build, staff and manage wellness programs for public companies like CubeSmart and private companies. We believe in Constant And Never-ending Improvement (CANI), what that means to you is that our team of Instructors (we don't call them trainers) is constantly learning and adapting to better serve you. We unconditionally money back guarantee your complete satisfaction, we never use contracts. Platoon is not for everyone, we know you have to try it to believe the passion we have for what we do. Complete the form here and we will respond to you in most cases in less than 10 minutes. If that's not fast enough call me at 215-752-8666 and let's get started now.