Welcome to Platoon Fitness Boxing: Unleash Your Inner Champion!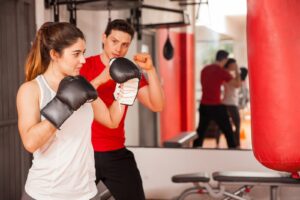 Are you ready to transform your body, enhance your strength, and sharpen your skills? Look no further than Platoon Fitness, the premier personal training company offering top-notch boxing training. Whether you're a seasoned athlete or a complete beginner, our team of dedicated trainers is here to help you reach your fitness goals and unleash the champion within you.
Why Choose Platoon Boxing Fitness?
Expert Trainers

: Our team consists of highly skilled and experienced boxing trainers who have honed their craft in the ring. They will guide you through every punch, every combination, and every footwork drill to ensure you develop proper technique and maximize your potential.

Personalized Programs

: At Platoon Fitness, we understand that each person is unique. That's why we tailor our training programs to suit your individual needs, goals, and fitness level. Whether you're looking to improve your cardiovascular health, build lean muscle, or boost your self-defense skills, we've got you covered.

State-of-the-Art Facilities

: Train in a professional environment equipped with state-of-the-art boxing equipment and facilities. Our spacious training area is designed to provide you with ample room to move, practice, and unleash your power. With high-quality boxing gloves, heavy bags, speed bags, and more, you'll have everything you need to train like a true champion.

Comprehensive Training Approach

: Boxing is not just about throwing punches; it's about developing mental toughness, agility, and discipline. Our holistic approach to training encompasses various elements, including strength and conditioning exercises, agility drills, speed training, and core strengthening workouts. You'll experience a well-rounded fitness regimen that will push your limits and deliver exceptional results.

Results-Driven Philosophy

: At Platoon Fitness, we are committed to helping you achieve tangible results. Whether your aim is to lose weight, improve your overall fitness, or compete in the ring, we will create a strategic plan to help you succeed. Our trainers will track your progress, provide ongoing support, and motivate you to go beyond what you thought was possible.

Fun and Supportive Community

: Join a vibrant community of like-minded individuals who share a passion for boxing and fitness. Platoon Fitness is not just a training facility; it's a place where friendships are forged, support is given, and goals are achieved together. You'll be surrounded by a positive and encouraging atmosphere that will push you to new heights.
Don't wait any longer to start your boxing journey. Contact us today to schedule a consultation and take the first step towards becoming the best version of yourself. Unleash your inner champion at Platoon Fitness!